Church of Frari
From Venipedia



The façade of the church.

Full Name
Local Name
Hours of Operation
Service Times
Cost of Admission
Church Information
Year Founded
Current Use
Denomination
Technical Details
Church Code
Longitude Coordinate
Latitude Coordinate
The Chiesa di Santa Maria Gloriosa dei Frari, or I Frari as it is locally known, was founded in the year 1227 and is a Catholic church.
History
The Frari was established by Franciscan friars after they were granted this land by Doge Jacopo Tiepolo. The first church to be built in the 13th century was much smaller than the current one, which was completed in the 15th century. Aside from its size, the Frari has a rather plain brick façade. The interior boasts Titian's Assumption over the main altar. The painting is more colorful compared to the other artwork hanging in the church, but its size is the most impressive factor.
Structure of Building
Exterior
Bell Tower
Bell Tower of Santa Maria Gloriosa dei Frari
Floor Map
The image below depicts the floor plan of I Frari, including the location of the Church Floor Artifacts.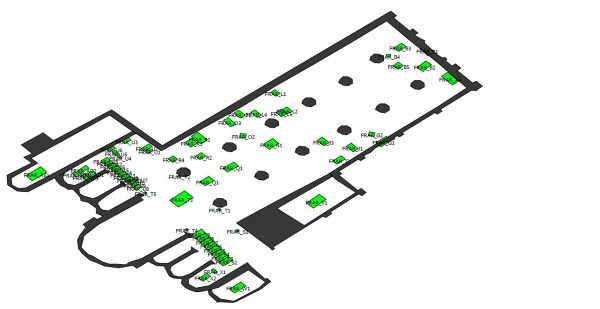 Map
See Also
References
↑

Lorenzetti, Giulio. "Venice and its Lagoon: Historical-Artistic Guide" Edizoni LINT S.R.L. Italy. 1994.

↑ Cotton, Jeff. "Churches of Venice" 2012. http://churchesofvenice.co.uk/index.htm
External Links